Nothing smells more like the holiday season than the fresh, invigorating aromas of pine, evergreen, cranberry, and apple cinnamon. Smell is something that ties us strongly to happy memories, so it makes "scents" to bring our favourite natural greens into our home and make those memories come alive. There are plenty of ways to "spruce" up our interiors while also adding a festive spirit.
Whether it's indoors or out, there are beautiful possibilities to make your home look and smell ready for the holidays. You can create a table runner for your dinner table from live fir or pine garland, or use a garland that is made from several small branches woven together. Just remember to mist it with water every two days to keep it fresh for as long as possible. To make it even more festive, wrap the garland with battery-operated LED lights and ornaments.
Look for greenery stems at a nursery or a tree lot, where they might give away tree cuttings if you ask. Your own backyard is a great — free — option as well, especially since winter is a good time to prune evergreens. Clip the ends of the stems as you would fresh flowers and place them in water overnight before adding them to a vase. Instant décor!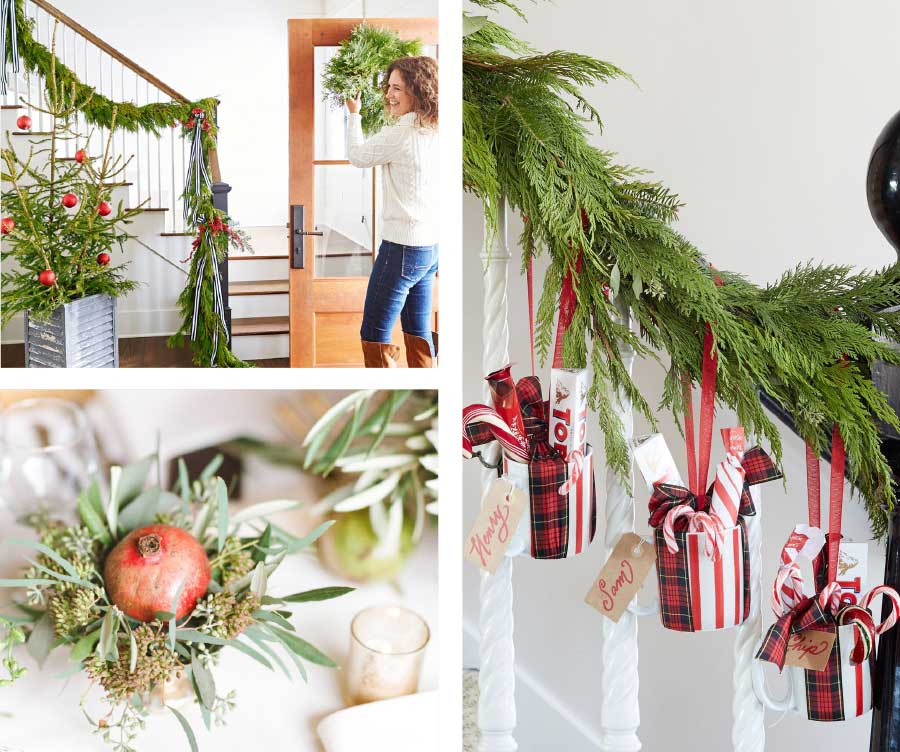 "Living and natural decorations are always a popular option during the holiday season," says Jennifer Klassen of Centro Garden in Burlington. She says if you're going to decorate outside, you can start mid-November. Interior decorations will need to wait until about a week before Christmas if you want them looking their best.
If you want to add a little light, you can try candles and twinkle lights with the greenery, or place small bunches of holly or sprigs of pine with baby pine cones in glass vases for the centre of a beautiful dining table. However, keep a close eye on any open flames: greens tend to dry out and can pose a real fire hazard.
"Natural Christmas décor is very popular," says Jennifer. "I suggest putting garlands on stairs and the mantel, perhaps on doorframes and pillars, and even on your fence. Pots filled with greens are also great but don't forget to water them once or twice a week." Jennifer also suggests incorporating colourful berries for an added festive splash.
"Red berries are all about Christmas, such as holly or Ilex, but you can also use white berries, or birch poles, and pine cones are also great," she says. "We used to sell a lot of pomegranates as décor, but they all got eaten by squirrels!"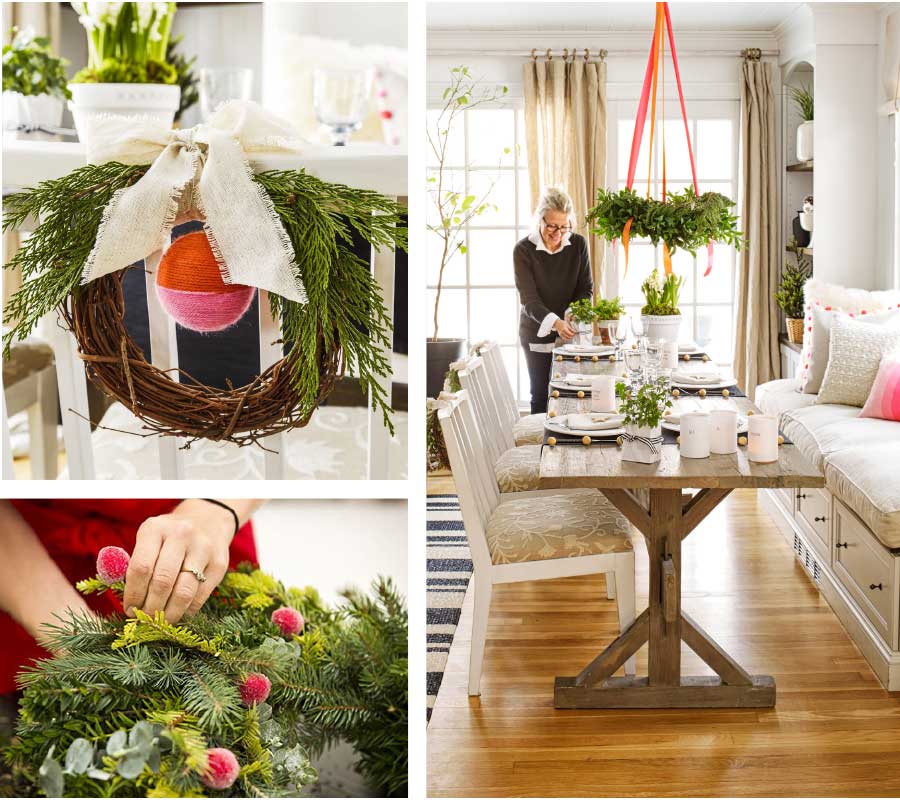 The foundation for your Christmas décor should start with decorating the entire dinner table using rich Christmas colours of red, green, silver and gold to create a festive base with tablecloths, place mats,  and matching linen napkins. Replace napkin rings with ribbons or small sprigs of greenery, and add miniature ornaments to tie it all together. Sashes tied around dinner chairs with sprigs tucked in to match the ones tied around your napkins will keep the décor co-ordinated. Gold, silver or glass bowls filled with ornaments and greenery to match the rest of the table decorations will pull the entire setting together.
One caution to remember: some live greenery can cause serious problems for small children and pets in the home. Berries on holly, yew, ivy, bittersweet and, particularly, mistletoe can be highly poisonous. Also, if anyone in the family has allergies, cedar cones can release pollen at room temperature. Remove the cones or spray them with clear lacquer before using them in your arrangement.
If you don't feel up to handling the decorating duties yourself, or you just don't have the time or the creative inclination, there are plenty of professionals who can handle it for you and turn your home into a winter wonderland.
Living and natural décor can be used as decorations all year long, but there's something special about the look and smell of greens during the holidays. Stretch your creative wings and make your home fresh and festive this season!
by Allison Dempsey
Local Links
Centro Garden
centrogarden.com
Fiori Oakville
fiorioakville.com
Glen Abbey Flowers
glenabbeyflowers.ca
Holland Park
hollandpark.com
Jade Gardens and Greenhouses
jadegardens.com
Cudmore's Garden Centre Inc.
cudmores.ca
The Garden Girls
thegardengirls.ca