Do you remember when shag carpet was all the rage? Flooring trends have certainly changed since then. It's hard to believe there was a time when wall-to-wall flooring meant anything but wood. While carpet still creates a cozy feel in many homes, these days it's all about a natural feel. Whether dark or light, highly polished or roughly hewn, wood flooring has never been more on trend. It's classic, hypoallergenic, and easy to clean – but more than that, there are so many options which make wood a go-to for many homeowners.
Whether you're pulling up old carpet to discover what lies beneath, or having new floors installed, choosing the right wood for your home is a lot more complicated than simply picking one you like and slapping it down. Most homeowners only want to redo their floors once, so choosing a material that's both beautiful and enduring is important.
"When customers come to us, about 80 to 90 percent of the time we're refinishing their wood floors," says Anna from Antique Hardwood Flooring in Oakville.
"We go into clients' homes and are refinishing, sanding and matching colours. And browns and greys are popular colours right now for sure."
Anna says that while kitchens are popular areas for wood flooring, she often sees it installed throughout the entire house as well.
"We're also ripping out a lot of tile floors these days and replacing them with wood," she says. "Tile is definitely no longer a popular choice for flooring anywhere in the house."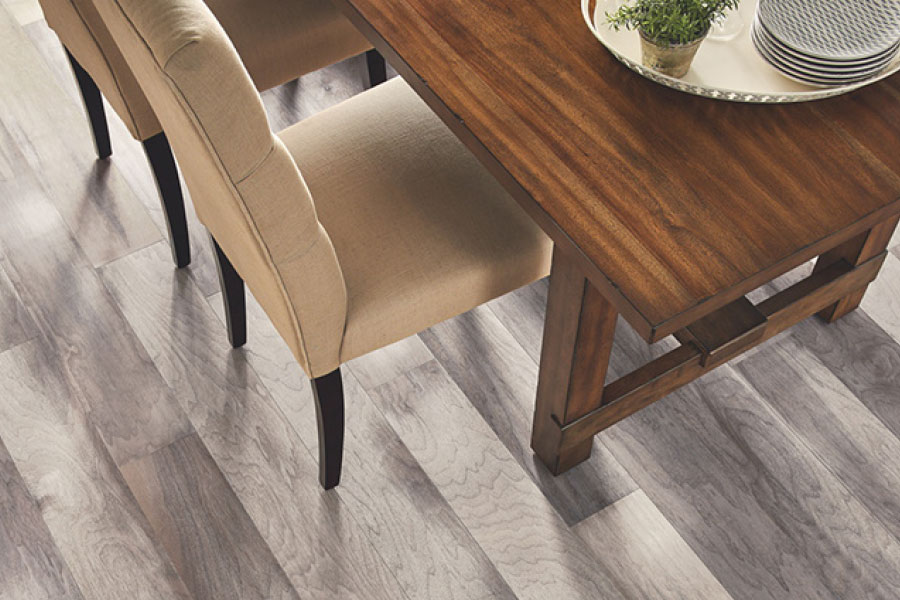 Engineered hardwood flooring, as well, is gaining popularity in kitchens, entryways, dining rooms, and bathrooms, and in more traditional areas such as living rooms and studies. Engineered wood uses a thick strip of solid wood that is bonded to a structured substrate to create a floorboard that is hardwearing and can be resurfaced like solid wood.
Frank Sharpe, designer at Inspired Flooring in Burlington, says Canadians are conservative when it comes to patterns and colour choices. The flooring industry is like the fashion industry – trends are changing regularly. But with this in mind, homeowners should choose flooring that resonates with them on a personal level and invokes emotion – and it's never a bad thing to stick with those timeless pieces. Designers like Frank can help customers choose which elements work with their homes and with their style.
Grey will always have a long and successful life span as a go-to neutral, easily blending with other colours and serving in a wide range of design styles, from mid-century modern to rustic farmhouse. Sea salt off-whites, similar to mist, provide hints of colour from surf and sand.
Engineered wood flooring has a lot to offer, including stability, overall quality, longevity and range. Exotic species such as Brazilian Cherry, Teak, Iroko, and Wenge are also something to consider.
For trends, the return of the rustic farmhouse look means longer and wider planks with an emphasis on natural aging and the use of reclaimed materials. Grey wood with a distinctive pattern is always popular, particularly for kitchens and bathrooms, pairing well with brushed stainless steel and tinted glass. Also, re-purposed waste and recycled materials are something to consider in an age when recycling is at the forefront of many design ideas.
"Of course, it all comes down to personal choice," says Sam Nesci of Inspired Flooring. "We do see a lot of marble and tile in certain areas of the house, such as the foyer, kitchen and bathrooms, but there is definitely a lot of wood being installed."
Sam says stone plastic composite (SPC) is also very popular these days. It's a high-quality engineered wood that is strong and low maintenance, used in restaurants for years and now being seen in homes.
"We don't do a lot of refinishing ourselves, as most homeowners want to install new, thicker wood that will last a lot longer than the thinner versions maybe found under carpeting," he says. Brown has always been the most popular colour, though grey and lighter hues are also seen often, with carpeting sitting at about one to two percent.
And Sam is right, of course: it does all come down to personal preference. Whether you prefer the softer warmth of carpeting or the durable low maintenance of wood, the choice lies beneath your feet.
by Allison Dempsey
Local Links
Inspired Flooring, Burlington
Inspiredflooringinc.com
Antique Hardwood Flooring, Oakville
Antiquehardwoodflooring.ca
Speers Flooring Ltd., Oakville
Speersflooring.com
Speers Road Broadloom Ltd., Oakville
Speersroadbroadloom.com