On a clear, star-filled summer's evening, there's nothing quite as cozy and satisfying as enjoying an outdoor blaze in your backyard's woodburning or gas fire pit, or perhaps a chiminea. Watching the flames grow into a warm, crackling fire is a rite of passage during this, our most fleeting of seasons.
Beware, however. There are rules and restrictions for Burlington and Oakville homeowners who want to use a fire feature. But if you're careful and responsible, it's easy and affordable to add this stunning natural light show to your yard.
There are many types of fire pits available, from functional to purely decorative, so you'll need to discern what you're using the pit for. Are you making pizzas and spider dogs? Or is your fire there to simply provide heat and light and impress your guests?
Wood Burning Fire Pits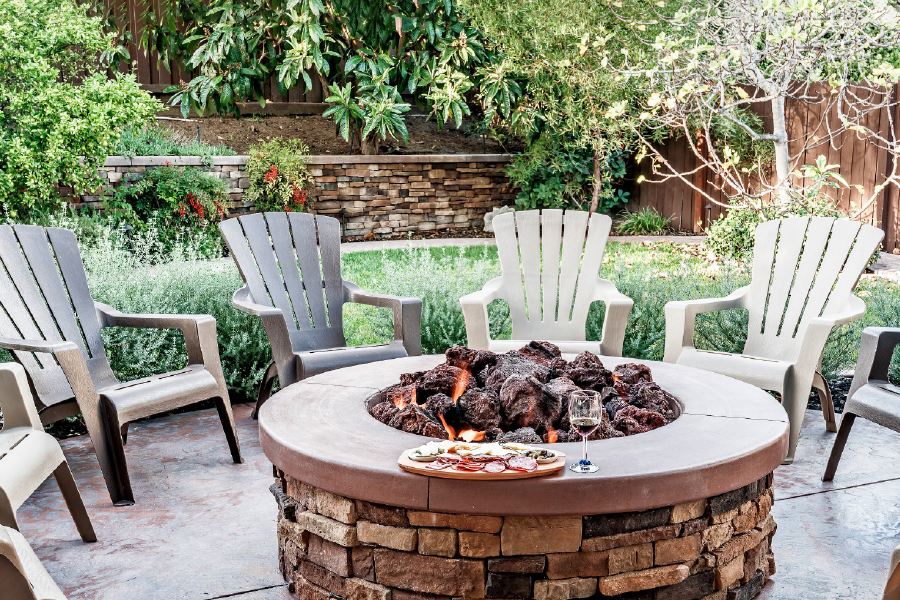 Ah… the smell, the crackle, the deliciousness of roasted hot dogs and gooey smores! Nothing beats the rustic charm and natural beauty of a real wood-burning fire pit. While a traditional campfire can be dangerous, causing burnt ground or grass and the risk of spreading fire, the latest low height, wood-burning fire pits have none of these issues thanks to their iron construction and optional (but highly recommended) mesh cover, which are especially necessary for yards with lots of plants or grasses or if you want to place your pit close to the home.
Gas Fire Pits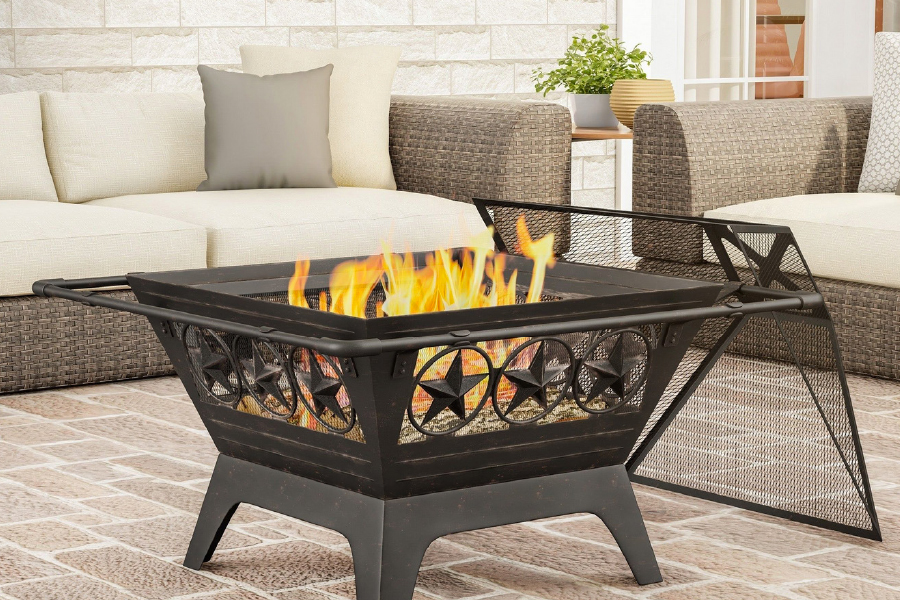 Safer and lower maintenance than wood-burning and available at several heights, a gas fire pit is a more versatile option for a broad variety of homes. Available in levels including chat, dining, and counter, many feature a surrounding table area perfect for placing dishware and glasses while you enjoy conversation or dinner. Cooking on a gas fire pit, however, is not recommended.
Chimineas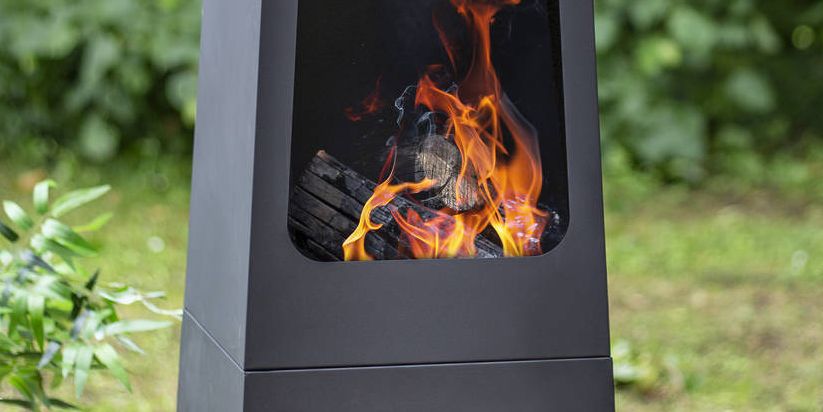 Another option is to use a chiminea. Basically, a portable outdoor fireplace, chimineas have recently become popular in urban settings, where they're placed on a patio or lawn creating a warm, interesting focal point for outdoor activities.
Traditionally constructed from clay and mud, chimineas originated in Mexico, where they were used by tribesmen to bake bread and generate heat. With a bulb-shaped, potbelly base that rises up to the chimney or neck, today chimineas are safely fabricated with cast iron and aluminum.
Jeremy Kalapacz, sales and advertising coordinator at Oakville Home Leisure, says fire pits are a hot ticket item this summer, "If you're looking to maximize time spent in your backyard, a fire pit is a great way to extend the season – taking you right through to the fall, even into November." Kalapacz notes that the biggest trends right now are concrete, faux timber, and slate, all of which pair beautifully with any outdoor décor.
While fire features are lovely to admire, they can also be dangerous. Any kind of fire should be placed at a minimum of ten feet away from your home and your neighbour's yard, and it should also be in a place where there are no overhanging branches, fences, or other structures that could easily catch fire.
In addition to determining a location for your fire pit, you will need to figure out the ideal surface for it. Safe fire pit surfaces include brick, stone, gravel, concrete, or some type of fire-resistant composite material.
Kalapacz says Oakville Home Leisure is happy to complete home visits and site surveys in order to help clients identify the best place for their fire pit install.
Both Oakville and Burlington have regulations around outdoor fire burning. In the Burlington area, a fire pit, a chiminea, and any kind of outdoor fireplace is considered open-air burning and you will need to obtain an open-air burning permit (for online link, visit burlington.ca/burnpermit). For each new permit, a Fire Prevention Inspector will inspect the site to assess any danger to nearby combustible materials. Oakville allows recreational burning in all areas as long as residents follow a few simple rules, such as time constraints and pit size.
Whether you're looking to gather with friends around a fire and roast marshmallows or cozy up with a cup of tea in the cooler months, a fire pit is sure to bring warmth to your backyard and extend the
outdoor season.
By: Kristy Elik