Written by: Jenny Ratcliffe-Wright
Pasta is one of the world's most accessible and ancient foods, dating back to the 1st century AD. Nearly every country has its own, unique version of this popular, inexpensive staple. In Germany and Hungary, there is spätzle. In Greece, orzo. In Poland, the pocket-like pierogi. Ashkenazi Jewish families make kreplach dumplings. And in America, pasta is prepared and served similarly to the way it is found in Italy– except for the all-American spaghetti and meatballs. 
In fact, when many of us think of pasta, we think of Italian food and most people believe it originated there. It is estimated that Italians eat over 60-pounds of pasta per person each year, while the average American only consumes 20-pounds per-person each year.
Pasta is divided into two categories: dried pasta (pasta secca) which can be produced commercially via an extrusion process and fresh pasta (pasta fresca) which is traditionally produced by hand. Between the two styles, there are over 300 styles of pasta that come with over 1,300 different names.
Fresh filled pasta is the focus of this story, as it's impossible to cover the entire world of pasta in a few short words. Fresh filled pasta is easy to make at home, especially if you have a pasta rolling machine. Rolling pasta by hand is an option but incredibly time-consuming. You also run the risk of pasta sheets being uneven.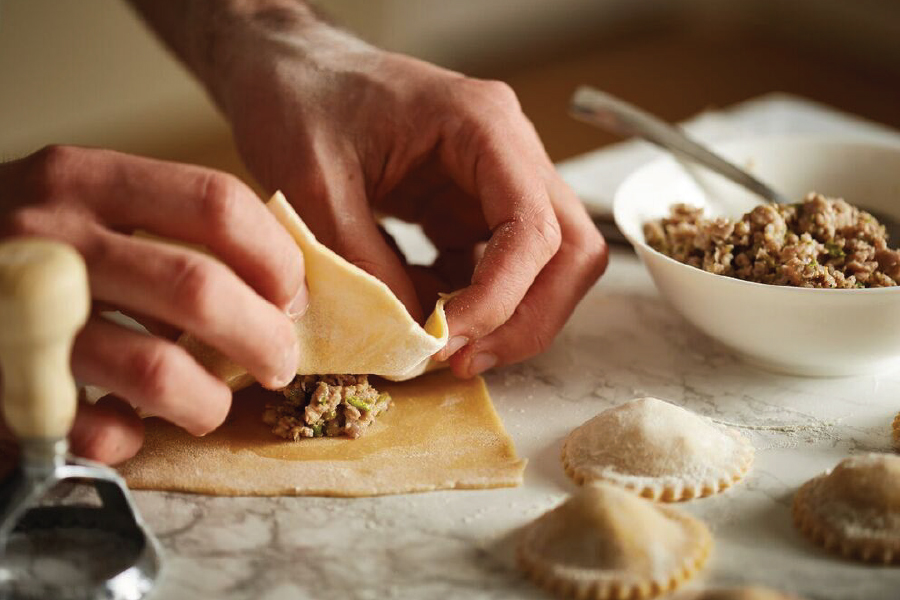 For six servings of pasta, mix three cups of all-purpose flour (or Italian 00 flour) with four eggs. Form a ball and knead it well, then let it rest. Roll out the pasta on your pasta machine and shape it into the multitude of pasta shapes available. Your next decision will be your filling, then your sauce. It is interesting to note, fresh pasta cooks much faster than dried pasta, so anticipate only 1-2 minutes in boiling water. Don't forget to add some salt! When the pasta rises to the surface of the water, it is cooked.
Tortellini are small filled pasta dumplings, approximately the size of a marble. Any filling can be placed inside from spinach and ricotta to beef.  Tortelloni are bigger than tortellini, the size of a walnut, and therefore they hold more filling.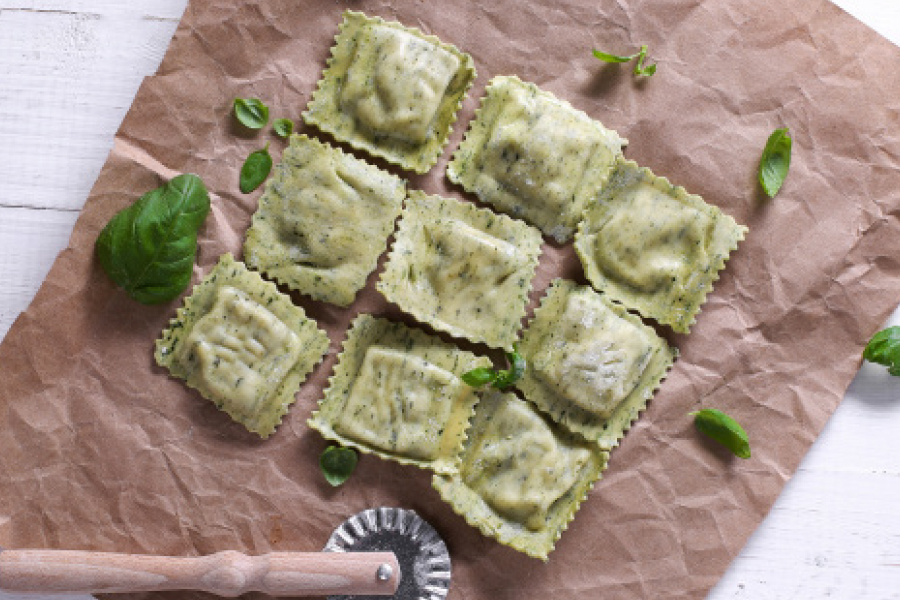 Mezzelune is a half-moon shaped pasta, sealed with a crimped border. Then there is Ravioli, one of the most well-known pasta types, which can come in small or large sizes. 
A famous dish in Northern Italy, Raviolo al' Uovo, is two fresh pasta squares that are sealed with a raw egg yolk inside it. When the ravioli is delicately boiled, the egg cooks slightly and when you cut into your pasta, a rich sauce is formed by the egg. This is usually covered in freshly shaved truffle and is quite sensational.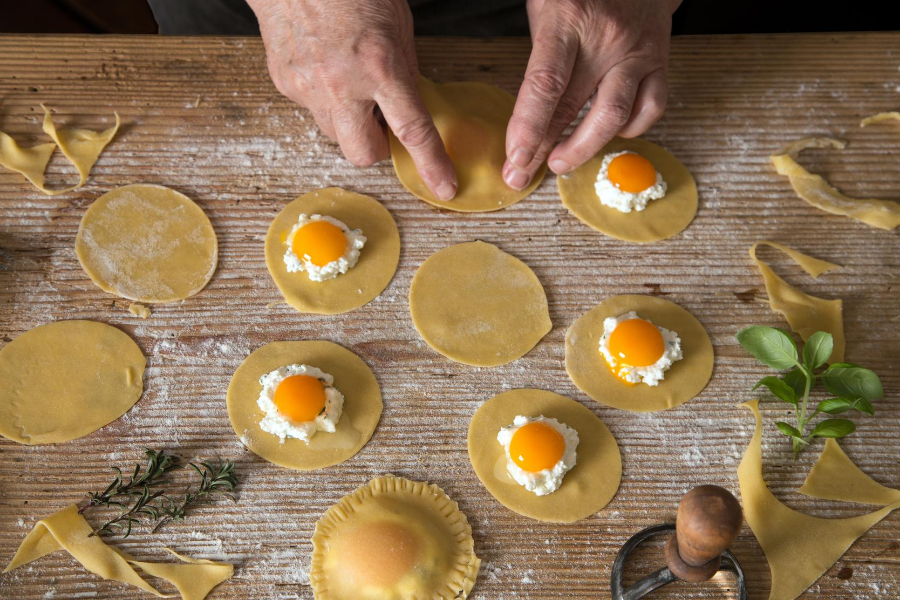 Apart from the filling differences such as porcini mushroom to four cheese, the sauce also varies and can play a main part in flavouring the dish. Alfredo, a rich sauce of cream, butter, and Parmesan cheese is a popular choice. Another favourite is Carbonara with crispy bacon and eggs. Al vongole is often served at the seaside in Italy and contains fresh clams, white wine, and olive oil.
Palma Pasta in Oakville is a pasta specialist and can provide catered trays of pasta for large gatherings. Their lasagne is quite excellent as is their rolled pasta, which is filled. Their stuffed tortellini are popular and they also make sweet potato gnocchi with basil for the more adventurous.
Nonna's Oven, on the border of Oakville and Burlington, is known for its homemade gnocchi – but don't visit without trying their spinach and ricotta lasagne that comes with rave reviews. 
Then there's Monastery Bakery. Their selection of handmade pasta is second to none and always freshly made from the very simple to the gourmet. Their spinach and cheese cannelloni is a firm favourite, along with their four cheese and meat lasagne.
PastaCo (Factory Outlet) in Burlington has a large range of pasta and sauces from all-natural and fresh ingredients. They have the kinds of pasta you take home and claim as your own – without your guests knowing a thing! And rest assured, there are no additives or preservatives – so, it's just as good as making it yourself.
The world of pasta is wide open, whether you make it at home or order in. It is always a well-loved meal and guaranteed to please your audience (and your belly). 
Local Links:
Palma Pasta, Oakville
Palmapasta.com
Nonna's Oven, Oakville
Nonnasoven.com
PastaCo (Factory Outlet), Burlington
Pastaco.ca
Monastery Bakery, Oakville
Monasterybakery.com