Montreal vs. New York. Two cities, two styles, one fundamental question: who makes the best bagel? For over a century, our neighbours in the south have claimed ownership of the perfect bagel. But like any good Canadian face-off, we politely disagree – with its distinct sweet tang and unique texture, the homegrown Montreal bagel reigns.
To be fair, this isn't really an apples-to-apples (or bagel-to-bagel) competition. Montreal and New York-style bagels are vastly different. Can one truly be better than the other? That's for you to decide.
What's the difference between New York and Montreal bagels?
More than just the name of their respective cities makes these bagels different. New York and Montreal bagels differ in shape, taste, and cooking method.
Kettle-boiled and baked in a traditional oven, New York bagels have a soft, doughy texture. They're often thicker than a Montreal bagel with a broader ring and smaller hole.
Montreal bagels, by contrast, are typically smaller and thinner, featuring a larger hole at the centre. Each bagel boils in honey and water – creating its distinctive sweet flavour – before entering the wood-fired oven. The result is a dense golden crunchy crust exterior and a chewy centre.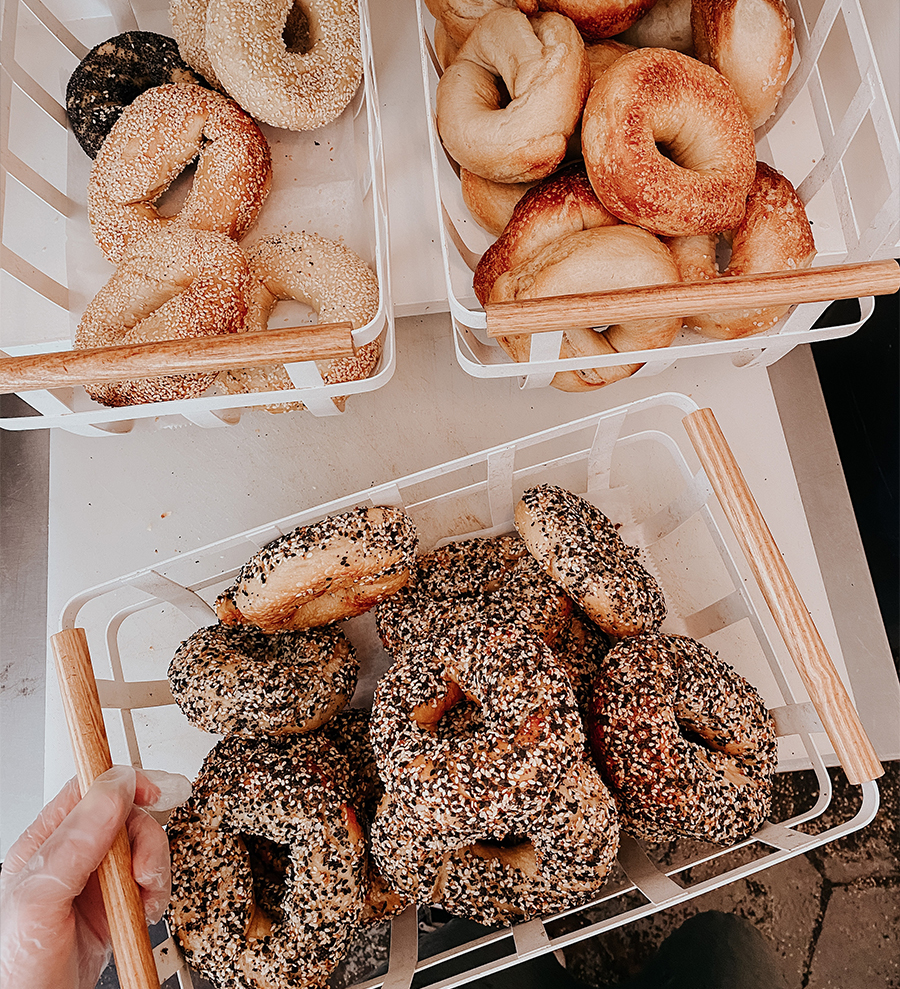 Where do bagels come from?
While New Yorkers claim the bagel originated on the Lower East Side in Manhattan, bagels trace back to a Jewish tradition in Poland. European immigrants brought the concept of a ring of bread to New York around the 1800s.
The first bagels appeared in Montreal in the early 1900s. New immigrants from Poland and other Eastern European countries brought the bagel to the multicultural city. Credited as being the father of the Montreal bagel, Chaim (Hyman) Seligman sold bagels off a carriage before establishing his bakery on Saint-Laurent Boulevard in 1900.
How to eat 'em
Regardless of the city, bagels were traditionally eaten on their own. But today, you'll be hard-pressed to find a breakfast bagel without a spread. Modern-day bagel shops offer a wide variety of cream cheese flavours to burst your taste buds. They also make the perfect "any time" sandwich with some meat, cheese, or an egg.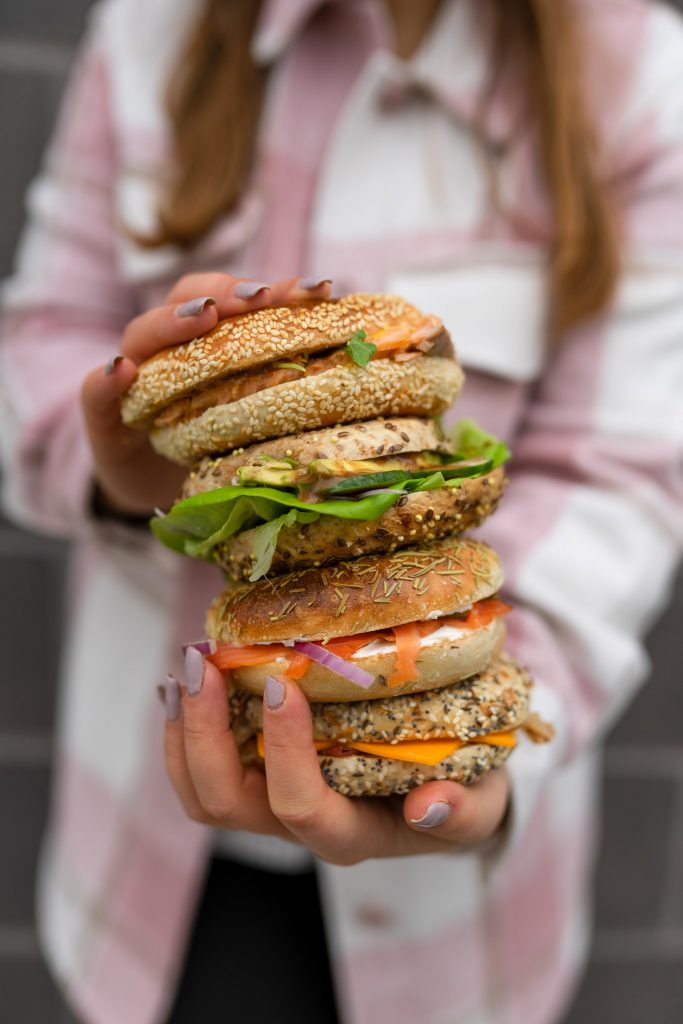 OKO Bagels
499 Cornwall Road, Oakville
OKObagels.com
This artisanal bagel shop in South East Oakville handcrafts Montreal-style bagels (and bakes them in a wood-fired oven on-site). OKO delivers a diverse menu of bagel flavours, including cinnamon raisin, rosemary sea salt, and cinnamon sugar. Bagel toppings include a variety of flavoured cream cheeses and a menu of hearty bagel sandwiches. Try the Caprese bagel made with mozzarella, turkey, tomato, basil, olive oil, sea salt, and black pepper. You'll never look at a bagel the same again.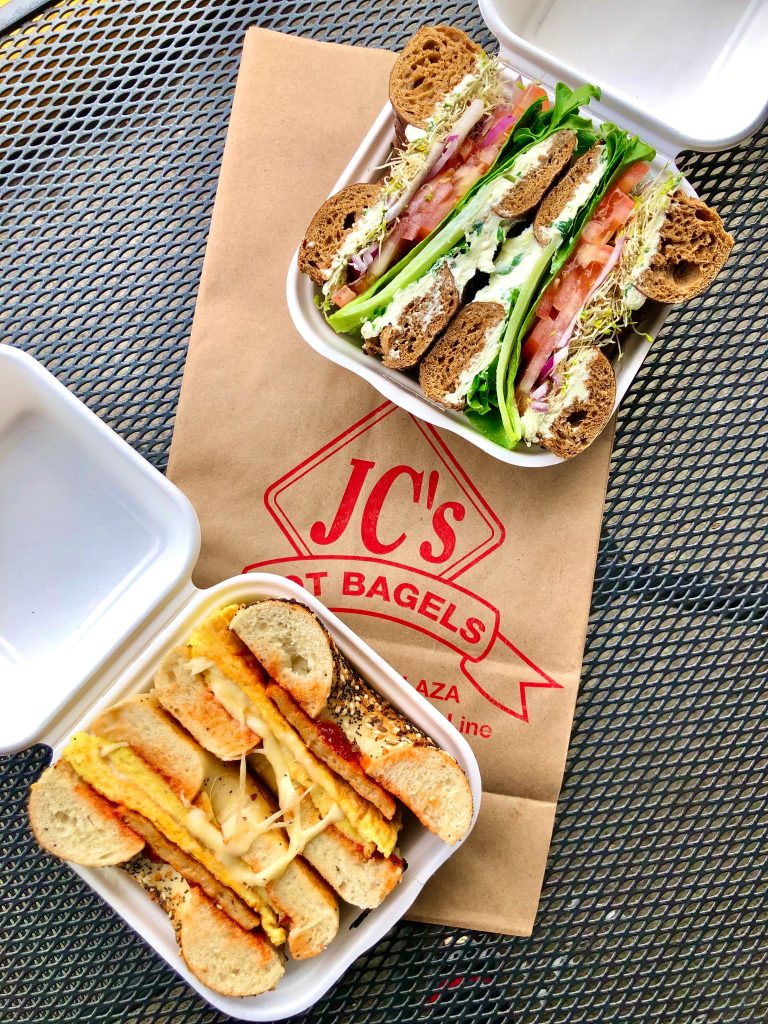 JC's Hot Bagels Cafe
3011 New Street, Burlington
JCshotbagels.com
This bagel cafe has been Burlington's favourite breakfast and lunch spot since 1995. Owners Jack and Joseph Champi came to Canada from Lebanon, fleeing the country's civil war. In their hands was their family's bagel recipe, handed down by generations. The brothers decided to start a business using that famous recipe, and JC's was born. JC's offers a variety of bagel flavours, including cheddar herb, garlic, sourdough, and a wide variety of breakfast and lunch bagels. Be sure to try one of their homemade cream cheese spreads (the pineapple walnut is our fave).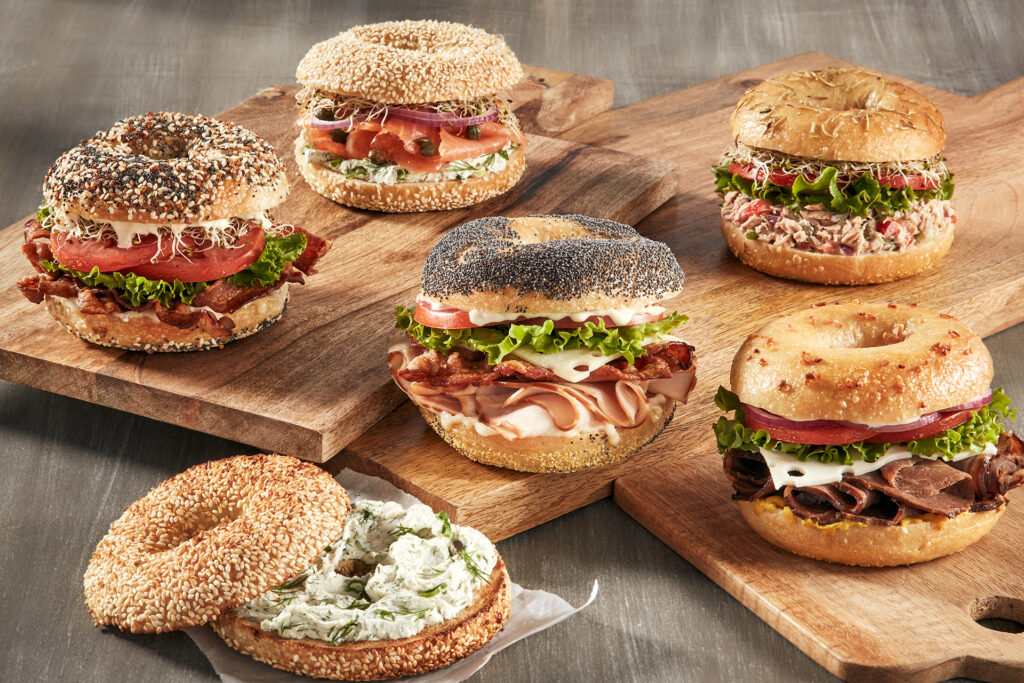 Bagel Barn
4490 Fairview Street, Burlington
Bagelbarn.ca
Hand-rolled on-site daily, these New York Style bagels are fresh and full of flavour! Every bagel is made from scratch, with all-natural, quality ingredients. Specializing in premium sandwiches with meat, cheese, fresh veg, or eggs, they're a great spot to pick up breakfast or lunch. Homemade spreads are also available.
by Nicole Lischer